We are almost ready to open for business at FVT #2 – Pocket / Greenhaven!
Working hard this weekend to get all the details in place for our soft opening date on Monday, Sept 18th.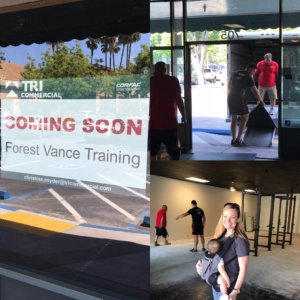 Don't have time for a super long message, but just a couple of things I wanted to send you a message about:
1 – 59 Workouts Bundle – Hurricane Harvey Relief Special
We ended up raising $1665 in our Hurricane Harvey Relief Special sale! I am very pleased with this as it was something that went from idea to ACTION – in less than 24 hours!
Every little bit makes a difference, THANK YOU to every single person who contributed, it really means a lot.
2 – Online Personal Training with Forest
I am going to have a handful of spots opening in my online personal training program. If you want individualized attention and are 100% ready to take your workouts to the next level and get AWESOME results, this is for you.
If you are interested, keep an eye on your email inbox, I will open up the application period here in the next day or two.
That's it for now … back to work, have a great weekend! –
– Forest Vance
Master of Science, Human Movement
Certified Personal Trainer
ForestVance.com