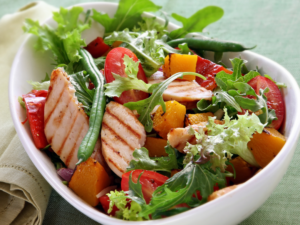 Imagine the kind of results could you experience if you FINALLY knew exactly what to eat, and when, to burn fat and get lean?
That's how my client Robert lost 11 pounds in 28 Days.
He was was training consistently, and getting stronger and more fit by the day.
BUT, Robert was not getting the fat loss results he desired.
It wasn't his workouts – he was doing all the right things in that department.
It was his diet that was the real culprit when it came to helping him lose those last 11 pounds.
But it wasn't his fault. Robert had in fact done LOTS of reading on nutrition – but ended up even MORE confused, because off all the conflicting information.
He needed a meal plan to follow that showed him EXACTLY what to eat, and when – based on HIS specific needs and goals.
We did a custom meal plan for him, that showed him exactly what to eat, and when … and he was finally able to lose those last 11 to get to his goal weight, and become RIPPED guy he had been dreaming of for the last 3 years.
Are YOU interested in getting a custom meal plan like Robert, so that you can get the same fat loss results he did?
Because of Robert's success, we are rolling out a custom nutrition planning service at FVT.
Here's how it'll work:
1 – If you are interested, fill out the short interest form here => http://bit.ly/fvtmealplanning
2 – If it looks like it's a great fit, I'll send you a link to sign up
3 – On signing up, you'll get an email from me asking you to answer a few questions so that I can start putting together your nutrition plan
4 – We go to work for you, and put together a custom meal plan based around the answers you give me, and deliver it within 72 hours. It will be a 7 day rotation of different meals so that you can get a great variety of foods and never get bored.
5 – Your meal plan will arrive via email, and you'll know exactly what and when to eat for maximum results
6 – You'll start your plan, and myself and the FVT Team will be here to support you every step of the way! We will answer unlimited questions (within reason) as you work through your custom meal plan, and get amazing results.
The regular price for this service is $199.
HOWEVER – as we roll it out, to test the service and make sure everything is working 100% smoothly – we are going to price the first 25 at $99 – a full 50% off the regular price.
AND – for those same first 25 folks – I am going to send you a copy of YOUR CHOICE of any one of my flagship programs from the list below:
– KB Challenge Workouts
– Bodyweight Beast Building
– No Gym? No Excuse!
– Bodyweight Strong
– Kettlebell GAINZ
– Basement Badass
FREE.
Which – if you feel you could benefit from this service – makes it a NO BRAINER for 'ya.
SO – if you are interested, fill out the short interest form here:
And we'll get back to you asap.
Look forward to hearing from you!
– Forest Vance
Certified Fitness Nutrition Coach
ForestVance.com