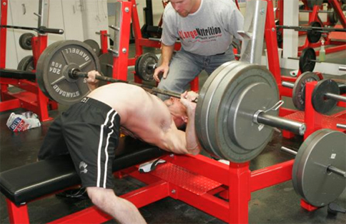 If you are a trainer or coach, or are currently involved in the fitness industry …
Or if you ASPIRE to be in the near future …
This is for you:
Forest's Top 21 Fitness Business Mistakes (and how to avoid them)
I cover 21 of the biggest mistakes I made when I was starting in the fitness business … and how I'd do it differently if I had to start all over again.
Things like:
– The lifeblood of your business – master this, you'll always be able to put food on the table
– How to work backwards towards your goals to achieve anything you want in the fitness industry
– The #1 thing that most fit pros totally forget, that can easily make their clients stay twice as long
– The huge mistake that most fit pros make when it comes to billing / bill collecting – and how to avoid it
– Exactly HOW to train your clients to get them the best results, and easily make 2-3x as much per hour
You see, a lot of times, it's as much about what NOT to do, as it is about what TO do, that's responsible for your success.
Any one of these tips – where to get a regular stream of new clients, how to get more people who try your services to sign up, implementing EFT billing, training people in groups, and SO many more – could easily add 10% to your bottom line.
I would say a lot of trainers could probably pick one of these tips per week to implement for the next six months, and DOUBLE their business in that time. That's what I would do if I had to go back and do it all over again.
I'll stop talking about how great this course is, and just give you the link to get it:
Forest's Top 21 Fitness Business Mistakes (and how to avoid them)
It's 60% off – just $15 – this week only. And, it comes with a Money-Back guarantee. So NO EXCUSES not to get better – pick up your copy now.
To your success! –
– Forest Vance
ForestVance.com
PS – With your purchase, you also get:
"23 Tips for a Rockin' Fitness Business" Companion Teleseminar Recording
This is the recording of the original teleseminar that got so much great feedback from FVTBiz followers, and drove me to create the full "21 Fitness Business Mistakes" training program! You'll get over two dozen valuable tips to take your fitness business to six figures and beyond.
Fitness Blogging for Fun and Profit (special report)
Learn the basics of starting your OWN fitness blog for fun and profit.
19 Ways to Get New Personal Training / Boot Camp Clients (special report)
In this special report, you'll learn about 19 different methods you can implement in your fitness business – starting TODAY – start getting more personal training and boot camp clients!
Six Figure PT Biz in 90 Days – a Simple Plan (special report)
A detailed plan to crank your fit biz to the next level, and get you on pace to doing six figures of revenue per year (or more) in 90 days!
Get it ALL at 60% – just $15! – this week only:
Forest's Top 21 Fitness Business Mistakes (and how to avoid them)