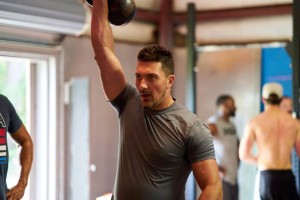 Earlier this year, I launched a small "beta testing" group, and took them through a six – week kettlebell program.
The program was designed to help them get as strong as humanly possible in the time we had together – all while helping them maintain, and even GAIN, athleticism, mobility, and overall conditioning.
The results were nothing short of amazing.
One participant improved his kettlebell pressing strength by 133%.
Another gained nine pounds of muscle – while LOSING three pounds of body fat in the process!
So I decided to package up the exact training plan my beta testing group used to achieve such amazing strength and muscle – gaining kettlebell results in such a short amount of time, and make it available to the public.
Now introducing, Kettlebell GAINZ!
Kettlebell GAINZ is the definitive guide to using kettlebells to gain serious size and strength – while staying athletic, improving your conditioning, and losing fat at the same time!
The program is LIVE, and now officially available to the general public.
Check out this sample workout from the program – and then go grab the full 6 week course HERE.
ALSO – the workout below is taken out of the full 6 week program, so it's not going to be nearly as effective, done on its own, as a one-off training session.
I've also left out:
– The daily mobility / movement flow routine
– The off – day HIIT workouts
– The dynamic warm up, done before the main workout
– The proper way to progress your workouts over the 6 week program
– Coaching videos explaining how to do each exercise
– Weight recommendations for each exercise, for both men and women
… and a few other things as well. I am doing this in fairness to all who make the commitment to the full 6 week program …
BUT – this sample workout should give you a great idea of what you're getting yourself into! 
#
Kettlebell GAINZ – Week 3, Workout A
1 – Goblet Squat OR Double KB Squat (if access to) / Pull Up Superset
Start by doing 6 single / double KB squats.
Follow the KB squats with 1 pull up.
Do 8 KB squats.
Do 2 pull ups.
Do 10 KB squats.
Do 3 pull ups.
Do 12 KB squats.
Do 4 pull ups.
After completing the ladder, rest about :60 and repeat.
2 – Renegade Rows 
Perform 4 sets of 12 reps (6 per side); resting about 45-60 seconds between sets.
3 – Snatches
Do 70 total, switching hands every 5-10 reps.  Time yourself and do all 60 reps as fast as you can.  EMPHASIZE GREAT FORM AND SAFETY. As your conditioning level / proficiency with the movement improves, strive to improve your time.
#
Give this workout a try …
… then click the link below to get your copy of Kettlebell GAINZ at the special sale pricing:
Train hard, talk soon –
– Forest Vance
Master of Science, Human Movement
Certifed Kettlebell Instructor
ForestVance.com
PS – You are going to LOVE Kettlebell GAINZ!