Here's a picture of me and my friend Logan after a KB workshop we put on at my studio about three years ago: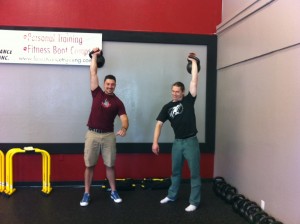 His supplement company, Lost Empire Herbs, is growing RAPIDLY … and I am SO excited for him!
Because his products are top quality. And Logan is a great guy.
So that's why I wanted to share another one of my favorite products of his for you to check out today. It's called the Hercules Pre-Workout formula.
You see – a lot of people find that many of the pre workout supplements on the market today "jack them up" – but NOT in a good way!
And you have to ask yourself – what is this really doing for your health?
The Hercules Pre Workout formula is a great solution. It's designed to help with:
— Hormonal Support
— Improved Energy
— Added Recovery
— Better Stress Adaptation
And much more … WITHOUT all the harmful ingredients and side effects.
Learn more about it – and get $10 using the link below:
Enjoy the rest of your weekend, and talk soon! –
– Forest Vance
ForestVance.com
PS – If you missed the Pheonix Formula write up we I did a couple of days ago, be sure to check that out as well at the link below: