What a great weekend at the SFG II. Thanks to StrongFirst for putting on a fantastic event. Learned, got better, and met lots of new awesome peeps!
I have 20+ pages of notes from the event. And I plan on sharing many of the tips and tricks we learned to improve our Kettlebell form – as well as lots of new workouts – with you over the coming days, weeks and months – so that YOU can get better too.
To start, I got 7 tips you can use right away to improve your Kettlebell Windmill.
According to the SFG II certification manual:
"The windmill promotes strength, flexibility and resilience of the shoulders, hips and back."
So it's a valuable movement to incorporate into your training.
But I know that for me, it's taken a while to really get it down. There are some form points of the exercise that make it tricky.
That being said, if you are trying to improve your windmill form, I think you will find the following tips useful:
#
7 Tips to Improve your Kettlebell Windmill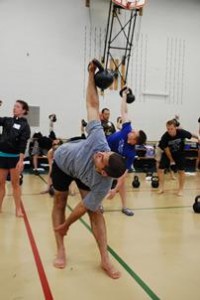 1- Use a line on the floor – edge of gym flooring, etc – to get your feet lined up.
2 – Think hip width in terms of feet placement.
3 – Point your feet away from the hand you are holding the KB in – but shift them and experiment with the exact ideal angle that works for you.
4 – Your back knee should be locked, and your front knee should be soft throughout the move.
5 -Your trunk needs to be STABLE – there is ZERO torso flexion that occurs in a proper windmill.
6 – Your hips should travel south east and your body should travel north west as you drop into the exercise.
7 – The depth you should go is what YOUR body allows, WITHOUT any flexing of the spine.
#
There you have 7 tips to improve your kettlebell windmill.
Start working them today, and see the exercise get safer and more effective.
And stay tuned for more KB training tips like these in the coming days, weeks and months – on the blog at ForestVance.com, and in the FVT Email Newsletter.
– Forest Vance
Certified Kettlebell Instructor
ForestVance.com