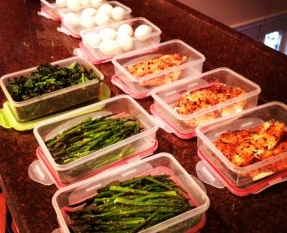 Just finished up on a webinar for our 28 Day Rapid Fat Loss Challengers.
In one section of the presentation, I covered some of the most common mistakes people make when doing a diet program like the one we're following.
Ended up getting a lot of positive feedback on this part, and on one of the mistakes in particular – so thought I would share it with you here …
One of the MOST common mistakes people make when doing a diet program is …
Eating too LITTLE!
See, what a lot of people do is cut their calories DRASTICALLY when starting a new diet program.
And while this DOES work in the short term, there is no doubt about that …
In the long run, it actually damages your metabolism.
And, it's REALLY hard to stick with … because even if you're losing weight rapidly, if you're starving all the time, eventually you have to go back to "normal" … and that's when you end up gaining all the weight back 
So what's the fix?
Follow a plan like the 30 Performance Nutrition Diet.
This diet focuses on:
– lean protein
– veggies
– some fruit
– nuts and seeds
– healthy fats
And focuses on ELIMINATING:
– refined carbs
– processed foods
– refined sugars
– liquid calories
When you eat this way, you end up being able to eat a lot MORE in food volume that you probably think you can … being pretty much full all the time … and still getting awesome, LONG term weight loss results!
Now, you can't currently sign up for the Challenge and get this meal plan, because registration is now officially closed.
But, you can get the diet plan as part of my 30 Day Abs Challenge program, which I've put up on a special sale for the next few days.  Learn more at the link below:
http://fvtcoachingclub.com/totalbodyabs/
Bottom line, eating too little is an often overlooked, but CRITICAL, dieting mistake that you must avoid.
Eating in the style described in today's message will go a long way towards making sure you can eat basically as much as you like, and still be able to lose weight.
Rock on!
– Forest
PS – Check out what a sample day of the Performance Nutrition Diet looks like here:
http://forestvance.com/2015/02/full-30-days-to-abs-program-workouts-meal-plan/
PPS – Did you see the "FVT Bodyweight / Kettlebell / Barbell Training Mega Bundle" sale going on this weekend as well?
Check it out at the link below:
http://fvtcoachingclub.com/18weeks/
PPPS – We are having our best month ever at FVT, and I am feeling in a generous and giving mood … might put a couple more of my products on sale for you this weekend … stay tuned!