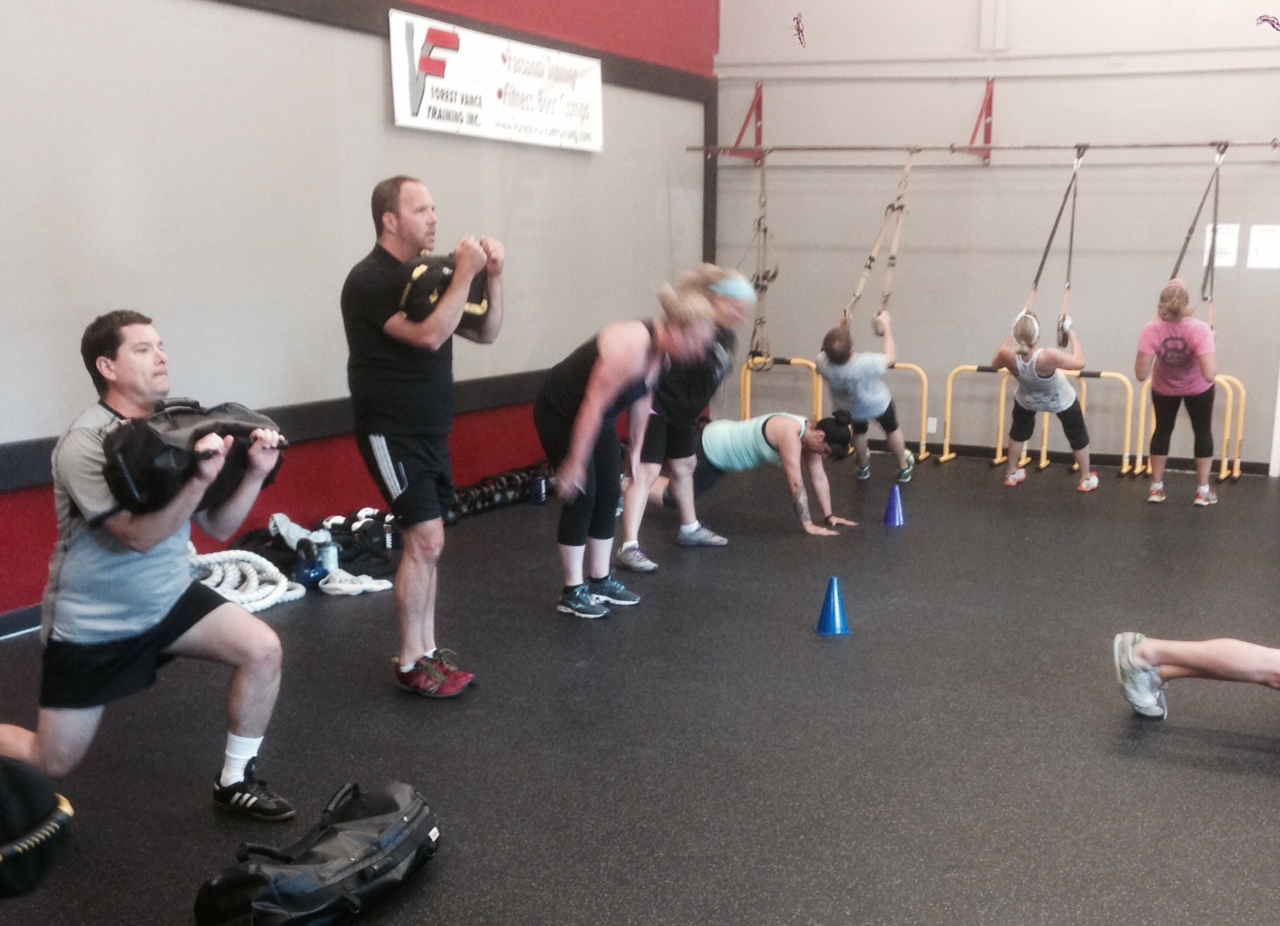 FVT Boot Camp and Personal Training has been in business for almost seven years now …
And during that time, we've held over 7500 boot camp / group training sessions, and thousands more personal training workouts.
We're always working to improve, do things better, and ultimately get our clients better results …
And we have gone through MANY iterations of boot camp workout programming over the years.
To give you a better of idea of who we work with in our BOOT CAMP programs (our private and small group focuses / demographics / etc are different):
— goals are to lose fat, gain lean muscle, increase energy and feel great
— approx 40% men, 60% women
— no major injuries
— enjoy the positive, high-energy group environment
— aren't afraid of working hard
So the question is – HOW do we program our boot camp workouts over time … to move people towards these goals … both safely and effectively … AND maintain the fun, exciting atmosphere that is SO important to boot camp success?
Well, I thought I'd give you a simple "template" of how we do things … so if you're a fit pro and run boot camps yourself, this will be useful … but it will also help you if you're just looking at your own workouts, and how to set them up and progress over time.
###
Boot Camp Workout Programming – How We Do It at FVT
— New clients go through an "intro" session … we take a look at any injury history, do a basic movement screen to see how they are moving, strength, conditioning level, flexibility, etc … based on this, if they are ready to rock, they go right into boot camp … but more often that not, we start them with at least a few one- on-one or small group sessions to learn the basics and build up a base level of conditioning.
(This is important to note, as MOST people will not be ready to jump into an intense program on day 1!)
— Workouts are programmed ahead of time for about 30 days … we alternate "strength" days, where the focus is lower reps, a bit more rest, and moving more weight … and "conditioning" days, where the focus is higher reps, less rest, and mostly bodyweight-focused workouts.
###
Here's what a sample STRENGTH day would look like:
Workout 1, Ultimate Kettlebell Challenge Workouts –"Doing it Way Big"
Pair 1 (4 rounds total)
– heavy single KB swing (10 reps)
– close grip push up (10 reps)
Pair 2 (4 rounds total)
– split squat (lunge without moving the feet during the movement) w KB in
goblet position (8 reps per leg)
– pull up OR inverted row (4 to 8 reps)
FINISH with – as many reps as possible in 30 seconds of each exercise; 3 rounds of the sequence:
– prisoner body weight squats (hands are interlaced behind the head)
– cross body mountain climbers (bring the knee to the opposite elbow oneach rep)
– burpees (no push up)
– shuttle sprints (set two cones up 10 yards apart, sprint back and forth between them as fast as you can!!)
###
Here's what a sample CONDITIONING day would look like:
Workout 5, Ultimate Kettlebell Challenge Workouts – "ExtraHard"
Do as many reps as you can of each exercise in 60 seconds; rest for 15 seconds between exercises, and do the full circuit three times:
– burpee
– KB swing (go a little lighter than usual; you'll be doing about 35 reps in a row!)
– inverted row (go at a little higher angle than usual; lots of reps here as well!)
– plank hold
– T push up (also known as push up with rotation)
###
— Each day, we also start with a some mobility work / dynamic stretching /etc , do some kind of "finisher" at the end of the workout, and do three or four static stretches at the end of each training session.
###
This works great in terms of having a structure and progression, ensuring consistent client experience no matter who is leading a boot camp, as well as keeping the workouts changing all the time and fun for clients.
Feel free to use this type of structure for designing workouts for your boot campers or yourself.
Train hard, and talk soon –
– Forest Vance, MS, RKC II, PCC
FVTBiz.com
ForestVance.com
PS – I've put together 72 of my favorite kettlebell boot camp workouts into a giant "mega-bundle" package … if everything I describe in this article sounds like a lot of work, these done-for-you workouts will make your life WAY easier! 🙂  Check 'em out at the link below: