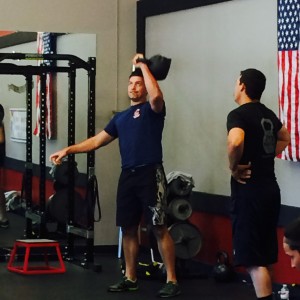 We have two events coming up at FVT that we're really excited about.
The first one is a kettlebell workshop set for this Saturday, June 27th – as in two days from now!
It's a 2.5 hour workshop where I'll be teaching the basics of safe and effective kettlebell training.
We still have a few spots left if you'd like to attend – check it out and sign up at the link below:
=> June 27 Kettlebell Workshop @ FVT
The second one is the RKC we're hosting at our gym this fall, September 18th, 19th and 20th.
If you are an instructor looking to learn how to use kettlebells the RIGHT way, I highly recommend you sign up and start training for it right away.
And if you're an avid kettlebell trainee who wants to take their kettlebell form and knowledge to the highest level, I also recommend you attend the event and get your KB certification.
=> Get all the details on the event and register here … and be sure to do it by Friday, June 26th (tomorrow) if you want to get the discounted rate
Thanks!
– Forest Vance
Owner, FVT Boot Camp and Personal Training
Master of Science, Human Movement
Level 2 Certified Russian Kettlebell Instructor
ForestVanceTraining.com
ForestVance.com