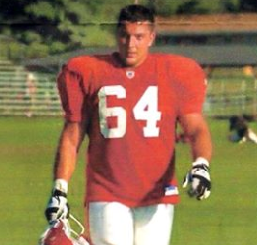 I played football at a high level for over 10 years … I was a three-time All-American at the college level, and had short stints with a couple of different teams in the NFL …
I often get questions about what I think was the #1 aspect that set apart elite-level athletes.
In my opinion, it's not natural ability …
It's not training and preparation …
I believe that it is the mental aspect.
A strong MIND is what allows you to perform at a peak level at all times, and deal with any situation that is thrown your way.
And I believe that this is KEY to work on, develop, and continually get better throughout your lifetime … whether you are playing sports at an elite level, or you are just trying to become the "strongest version of yourself".
So that is the message for today … get your MIND right to succeed in athletics, your workouts and your LIFE!
Now if you are looking to get as tough as nails, but you aren't sure where to get started, check this out:
=> "Psychology of Strength" program from World-Renowned US Tactical Trainer Mike Gillette
See, in my football days, I actually did do a good amount of training on the topic.  My coaches throughout the years focused and taught on being mentally tough in varying degrees throughout the years … I also read books on the topic, listened to audio tapes, etc …
But I would say that there was not a lot of great material I could find on the specific topic, as it related to my specific situation.
I am personally excited about Mike's program and am currently going through it myself, and loving it.  This is a program that is filling a unique space in the market, and there is not really anything else like it out there, that I have seen.
If you want to get a stronger mind, I highly recommend you check it out, HERE.
That's it for now … stay tuned, we'll be digging into this topic more later this week!
Train hard, and talk soon –
– Forest Vance
ForestVance.com