** 8.28.14 Update **
We've gone through and selected a winner from all of the incredible contest entries.
My assistant wanted me to pass along that it was SUPER tough for her to pick just one person.
I want every single person who entered the contest to know that your feedback is VERY valuable … and I will be taking what you've mentioned about your goals, frustrations, etc. and using it for creation of future articles, videos and products.
Again, THANK YOU – I am overwhelmed by the response!!
SO … the moment you've all been waiting for … Tiffany Ehrmantraut is our big winner!! Please email Sabrina at fvtcustomerservice (at) gmail (dot) com to claim your free copy.
ALSO – even if you didn't win – the program is now officially on sale, and you can grab your copy now at a great price for the next few days.  Learn more about the program and get your copy HERE.
Thanks, and talk soon –
– Forest
###
As you've probably heard by now, we welcomed a new member of the Vance clan, a beautiful baby girl, into the world on August 7th, 2014!!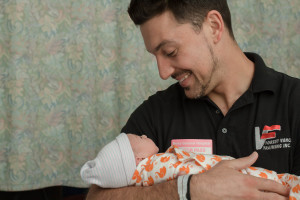 And in celebration of this great event, I've decided to put ALL of my best-selling programs up for sale – in an "FVT Mega Bundle" package – at over 60% off!!
This mega-bundle includes:
— Kettlebell Challenge Workouts 2.0
— Kettlebell Boot Camp Workouts
— Body Weight Strong 2.0
— Kettlebell Basics Premium Workouts
— The "Official" FVT Fat Loss Meal Plan
— Top 13 Kettlebell Training Mistakes and How to Fix Them
— Functional Flexibility Secrets
And More!!
This awesome package will be officially available in a few short days … but as we get the finishing touches of the delivery process ironed out, and simply as my of saying THANKS to YOU, a loyal FVT blog / newsletter reader, I've decided to give away a free copy of the program.
This is literally almost $300 worth of my workouts and programs … and you have the chance to a copy of the complete package, TOTALLY FREE.
All you have to do to win your copy is leave a comment on this post detailing your number one fitness goal … and your biggest obstacle/frustration/etc. that's keeping you from accomplishing it.
I'll have my assistant go through and pick the winning submission, so the contest is as fair as possible.  And all I'll ask for is a little feedback from the winner after they've gone through the program, watched the videos and tried the workouts themselves.
Leave a comment below to get entered to win … and keep an eye on your e-mail inbox to get first word of the FVT Baby Sale!