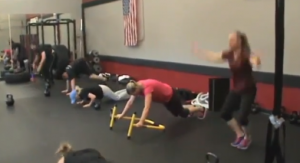 Did you know that the burpee burns over 12 calories per minute and works 639 different muscles?
Today, I have one very special challenge for you.  It consists of, that's right – the burpee.
This challenge will test your "Burpee Tolerance", as I call it.
Here's what you do…
After warming up and turning on your pump up music, I want you to get focused and fired up …
Once you are ready to go you, will complete the following:
*Perform as many burpees in a row as possible without stopping.
Once you stop and can't go anymore, that number is your "Burpee Tolerance."
Now there are a few rules to this:
1. Once you start, you cannot stop. If you stop, your burpee count stops.
2. You must do all the burpees as quickly as you can. The burpee is a high intensity exercise, so don't cheat yourself by going slow on this challenge.
3. If you can, include the pushup and squat jump. If that is too hard, eliminate the pushup and keep the squat jump.
(Note: if you cannot do a burpee with a pushup, your goal should be to build up into doing this.)
After going through the challenge, make sure you write down the amount of burpees you were able to get in a row.
Your goal now is to beat that score the next time you perform this test.
Now I get asked all the time, "How do I get better at burpees?"
=> Here's a plan on exactly how to do 50 straight burpees with no rest PLUS 27 other goal programs!
The first thing you need to do is look at what the burpee exercise itself consists of. In one single repetition, you hit three main areas:
-Pushups
-Squat Jumps
-Cardiovascular
So aside from doing burpees more often, you can also make burpees easier by hitting the three areas above.
Gaining strength in your legs and upper body will help with the strength portion of the exercise and you can do this through:
— Lower Body: Bodyweight Squats, Prisoner Squats, Dumbbell/Barbell Squats, Squat Jumps,
— Lunges, etc …
— Upper Body: Pushups, DB Chest Press, Bench Press, Overhead Press, etc …
Then we have the high intensity portion…
The best way to increase your cardio is by doing sprint intervals or of course more burpees which I know you are pumped for 🙂
See The 28 Fitness Goals For A Strong, Leaner, And More Fit YOU 28 Fitness Goals You MUST Achieve
So try this "burpee tolerance" test today, and report back with how you do.  That's all I got for 'ya for now – keep training hard, and talk soon –
– Forest Vance
ForestVance.com
ForestVanceTraining.com
PS – No matter what you want to accomplish, there is a plan for you created by an expert that has dedicated their life to figuring out what works and what doesn't.
Check out what these 11 experts put together for you: