I love doing workshops!!
It's so fun to get a group together for an extended period of time, and really focus in on and "go deep" on one topic.
Last Saturday's Flexibility and Mobility Workshop at the FVT studio was no exception. Great times all around.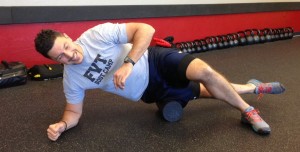 Now, we covered a LOT of groud at the event … including self myofascial release techniques, joint mobility, static stretching, contrast-relax stretching, body weight "flow" sequences, and more …
So I thought I would share a couple of big take-aways with you in today's post – in case
– you weren't able to make the event for whatever reason
or
– if you WERE there, to refresh your memory on some stuff and to answer some questions that came up
Let's get right to it!
3 Big Take-Aways from the August 24th, 2013 FVT Flexibility and Mobility Workshop
1 – SMR Tip
If you're not familiar with the concept of self myofascial release, check out this article on the topic:
=> The Healing Power of Self Myofascial Release
At the workshop, we used foam rolls and lacrosse balls to do our SMR work.
One thing that kept happening – and it IS *kind* of annoying, I can attest to this myself 😉 – is that when you are trying to roll your back with a lacrosse ball against the wall, it's hard to position and ends up frequently coming out of place.
Well, a great solution that I found recently to this problem is called the Tiger Ball. It's basically like a lacrosse ball on a rope, and it makes it much easier to position the ball and keep it from falling on the floor.  Genius! 😉
Check it out at the link below and grab one for yourself:
=> Tiger Ball trigger point therapy tool
2 – Body Weight Flow Sequence Videos
A lot of folks were intrigued by these … but also found them a bit difficult to remember.
I dug up a video that should help you … it's not the exact sequences we covered at the workshop, but it's better than nothing 😉
Check it out: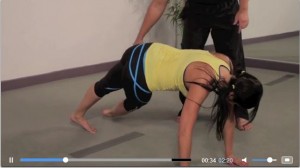 => Bodyweight Flow Example Video
And – if you're interested in the full Bodyweight Flow program, which is where I actually got these from – you can learn more about it here:
=> Full Bodyweight Flow Program
3 – Contrast-Relax Stretching
This is an incredible way to boost your flexiblity, FAST.
Here is a link to a basic article on the topic:
=> You Can Already Do The Splits: How to Relax Into Stretch
And a link to get the full book/DVD by Pavel where I got a lot of this info from:
=> Relax into Stretch (full book/DVD)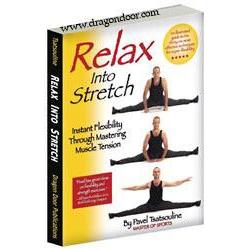 Alright! Hope those take-aways from last Saturday's Flexiblity and Mobility Workshop at FVT were helpful for you – whether you were able to make it out to the event or not 😉  It was a great time had by all, and thanks again SO much to all of you who attended.
Train hard, and talk soon –
Forest Vance
Master of Science, Human Movement
Certified Corrective Exercise Specialist